The End of and Start of an Era at Playfords Ltd
Today marks the end of an era within Playfords' long and successful history. Alan Tuohy, Mick Tee and Julian Winspear retire from Playfords following a combined 102 years' service.
Having joined Playfords through the acquisition of the company in 2006, during their tenure in charge the business has gone from strength to strength seeing an increase in revenues from £3.0m turnover in 2006 to £15.0m turnover today. Successfully merging with its sister company Hedley Solutions in 2014 Playfords has continued its growth and development, in recent years increasing its presence with the addition of a new regional office in Dartford and securing high profile projects such as critical works within Guys and St Thomas Hospitals and high-profile works at the Royal Opera House and Theatre Royal Drury Lane.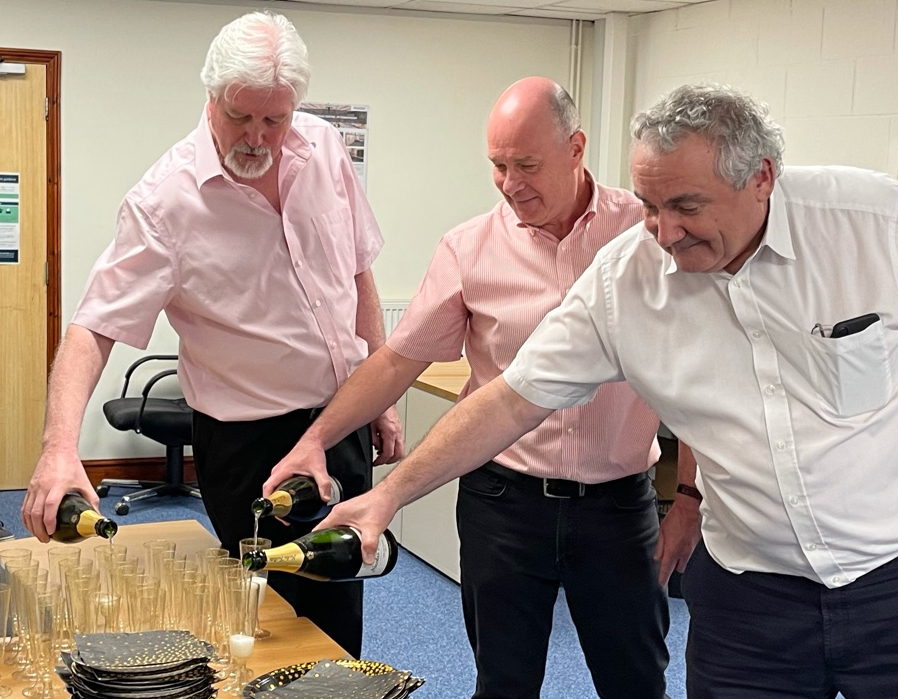 Alan Tuohy, having started his career as an apprentice with the London Electricity Board, quickly progressed from apprentice, approved electrician, supervisor to project management, gaining valuable experience of a diverse range of projects along the way, and expanded his knowledge of mechanical services working for multi-disciplinary companies. Joining Hedley Solutions on 1st January 1997 he headed up a management buyout of the business in 2000. Following success within Hedley Solutions the business purchased Playfords Ltd in 2006 with Alan taking up the challenge of developing Playfords into what it is today. Playfords would like to thank Alan for his 24 years and 3 months service with the company and efforts to make the business what it is today.
Mick Tee joined Hedley as an apprentice in July 1976 and has worked for the business all of his working life culminating in 44 years and 9 months total service. Having progressed from Apprentice to Electrician and onto Management Mick quickly established himself as a key member of the management team and took on the responsibility of managing our key NHS customers. Joining Alan and Julian in 2000 he was part of the management buyout of the business and joined the Board of Directors. Working with Alan and Julian and seeing the success of Hedley continuing, Mick took on the role of Managing Director at Hedley Solutions alongside Julian following the acquisition of Playfords in 2006. Following the merger of the two business in 2014 and the creation of Playfords as it is today Mick has played a key role in helping to establish our business within the critical infrastructure works we complete for the NHS in London.
Julian joined Hedley in October 1987 as a labourer, initially becoming a time served Technician Electrician during his early time with the company. Joining the management team in 1997, Julian quickly took on the development of our structured cabling works, gaining the necessary qualifications and certifications in order to progress Hedley's in this then emerging market. Using his knowledge and specialist skills in this field Julian quickly established Hedley's as one of the major players in the market working with key clients to further grow and establish Hedley's. Part of the management buyout in 2000, Julian joined the board of directors and worked to further grow and establish the business. Following the merger in 2014 Julian has continued to head up our Voice and Data operations, retaining our key accreditations and helping to make it the key part of our business that it is today. During Julian's 33 years and 5 months service with the business he has seen the development and change within the Voice and Data industry and kept Playfords at the forefront of this evolving market.
Playfords would like to thank Alan, Mick and Julian and wish them all the very best for the future and we hope they enjoy their well-deserved retirements. They will be sorely missed.
James Tuohy, Playfords' new Managing Director, commented 'I would like to personally thank Alan, Mick and Julian for their many years of hard work and more recently with their support and backing of the recently completed MBO. Playfords starts a new era on fantastic footing with a great order book of secured work and excellent projects already underway. We start this new era very much on the front foot'.