Social Responsibility
Playfords recognise that they are part of the community, not only in business terms but also as part of the neighbourhood, demonstrating this through numerous sponsorship opportunities.
Playfords welcome supporting the local community and local causes, the company promotes these internally to support causes close to our employees, 10 years ago the company decided to stop sending Xmas cards to clients via the traditional postal system and now uses electronic Ecards to send our seasons greetings to clients. The savings the company has made from switching to the Ecards has been donated to a cause local to each office every year, Huntingdon – Sue Ryder Care Homes, Durham – Teesside Hospice and Dartford – Meadowside Day Centre in Dartford (a Dementia Care home). Over the past 10 years over £10,000.00 has been donated to these causes. Along with this support we sponsor local youth football teams again generally teams that our employees children play for and have enjoyed a long relationship with Barrow Football Club who we have supported for over 6 years seeing the team progress through their age groups.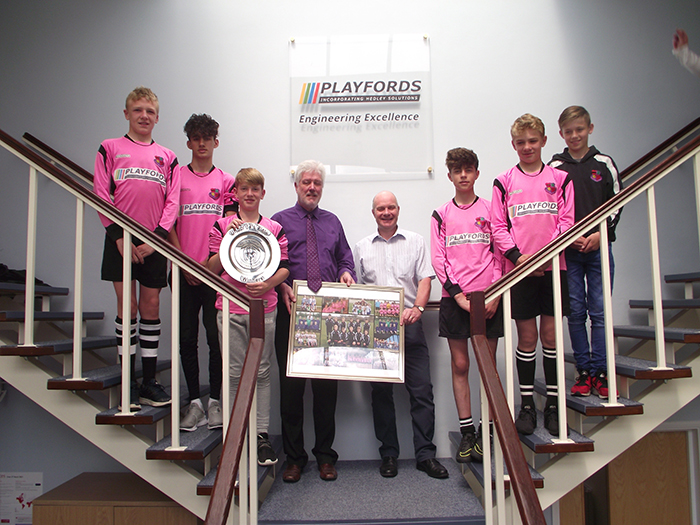 Barrow FC (and Alan Tuohy and Mick Tee of Playfords) with their Under 14s Suffolk Youth Football League trophy
Our company philosophy is to embrace and keep our workforce involved. Numerous personnel within the company bring sponsorship opportunities they are involved with, for example local football and rugby teams, equine events and other sporting and social activities.
Recent sponsorship activities include:
St Ivo Girls Football Teams (pictured below)
Long Melford FC (pictured below)
Bluntisham Blasters FC
Wideopen Juniors FC
St Ivo Girls Football Team
Students at St Ivo School are building on their success on the national stage to go international! The school is taking two girls' football squads to the Gothia Cup, otherwise known as the Youth World Cup, in Gothenburg, Sweden. The girls are competing in the under 14 (school years 7 and 8) and under 15 (years 9 and 10) competitions. Read the full press release here.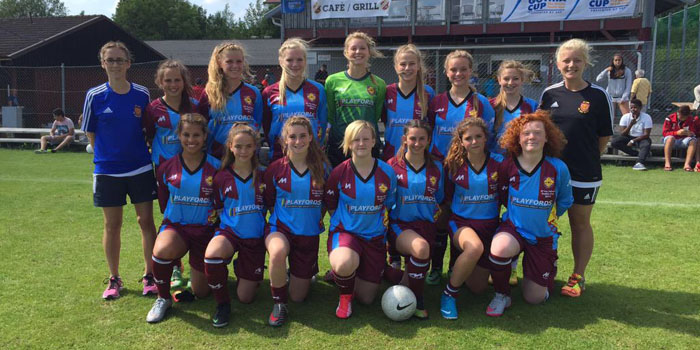 "Many thanks for your support in all things girls football! Students and staff have really valued your help, which has enabled our National Cup success and is allowing us to visit the Gothia Cup this July! We couldn't have done it without you!"
St Ivo girls football teams
Long Melford Football Club