John Adams Toys
Playfords partnered with main contractor R G Carter to assist with the delivery of a brand new purpose built warehouse and head office facility for John Adams Toys, a major toy distributor in the UK based in Alconbury near Huntingdon, Cambridgeshire.
Working alongside the main contractor and the client's architectural and design teams Playfords developed the electrical design, gathering information from a series of design team meetings to deliver a bespoke electrical design tailored to the client's wishes whilst also offering the practicality for daily use both within the warehouse and office areas.
A new dedicated electrical sub-station has been installed externally which in turn feeds a new electrical mains panel within the warehouse area of the building. This feeds a sub mains panel at the opposite end of the warehouse and further distribution boards within the main office areas.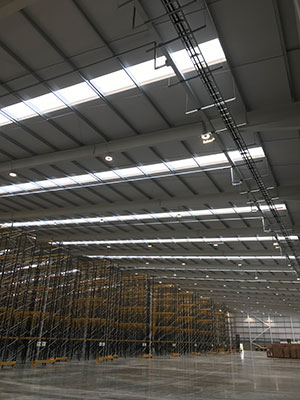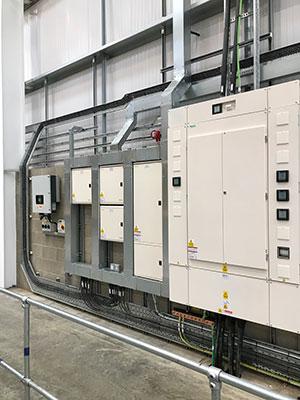 Power supplies within the warehouse include a number of fork lift charging stations, delivery roller shutter doors and general power sockets.
The warehouse lighting scheme was developed around the proposed racking layouts and includes one of the latest LED high bay luminaire solutions available to include absence and presence detection throughout, affording the client a fully efficient lighting solution in what is a considerable open space of some 14,000 Sq.M. Running costs are therefore minimised when areas are un-occupied to reduce energy bills.
The main office area of the delivery carries an LED lighting solution throughout. This was developed with the clients preferred "look and feel" in mind and again absence and presence detection exists; this is also enhanced further by an intelligent daylight dimming solution to further maximise energy bill savings for the client.
Power outlets to main office areas are presented via a floor box solution with dado and skirting trunkings also installed to general spaces and development rooms.
External lighting is all LED with a mixture of building mounted and bollard lighting to walkways and fire escape routes. Column mounted LED lighting is installed to vehicle access routes and parking areas.
Data services are installed throughout with an RJ45 Cat6a solution which also includes a resilient fibre optic link to the staff base located at the opposite end of the warehouse to afford connectivity to stock monitoring equipment.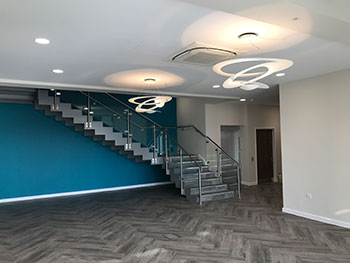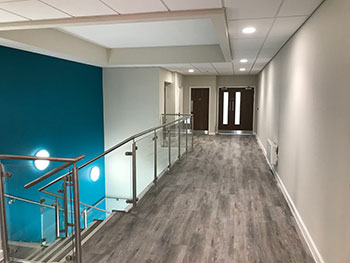 An addressable fire alarm system is installed throughout the office area with an air aspirating detection system installed throughout the warehouse affording full L1 fire protection; intruder alarm, access control and CCTV installations are also installed along with the required disabled alarm and refuge stations for life safety.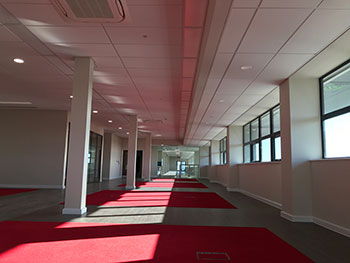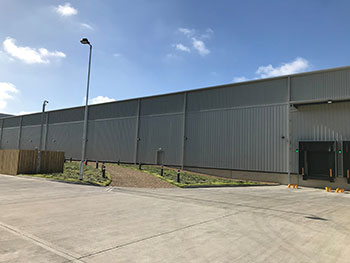 To further enhance the building efficiencies and to assist with energy bill reduction for the client a Photovoltaic Solar Panel installation has been installed to the warehouse roof.
Very much with the future and sustainability in mind the infrastructure for several motor vehicle charging stations has also been installed from the mains distribution to the car parking areas.
The Playfords delivery team maintained a very close working relationship with the main contractor's site team throughout the project duration with very much a "one team" ethic to ensure the client was handed a defect free delivery that met initial design concept expectations. The office area carried all aspects of John Adams Toys' requirements with spaces for R&D, Showroom, Meeting Rooms ,IT Suite, Sales and Marketing and Directors offices, all harmonised into an aesthetically complementary design throughout, reflecting each of the areas of business with its own identities.
More projects like this