Queensgate Shopping Centre
Playfords Ltd were awarded the contract to complete Phase 3 of the LV Switchboard upgrades at Queensgate Shopping Centre in Peterborough with works starting in January 2017.
In total Playfords were tasked with upgrading the LV infrastructure within 4x Switchrooms consisting of Mains Fed Distribution and also Standby Generator Fed Distribution switch panels. In addition a further 4no Generator Supply panels were replaced as well as the Generator Synchronisation Panel.
The task at hand had to be planned to work around the centre's 7 day week opening hours, late night shopping and cause no disruption to ongoing services. Working closely with the centre management team, co-ordinating shutdowns and migration works across night shifts worked impeccably well and enabled all services to be back up and running by 6am daily ready for the centre's day to day activities.
Switchroom Main Panel Board, Generator Panel Board and Distribution Boards
Utilising Schneider Electric Switchboards to replace the old original Switchboards Playfords re-designed the Switchrooms to create a user friendly space within the Switchroom and logical layout for day to day maintenance. In addition full monitoring of the electrical distribution system was integrated into the switchboards and added to the centre's central BMS system to allow effective monitoring of electrical use throughout the centre.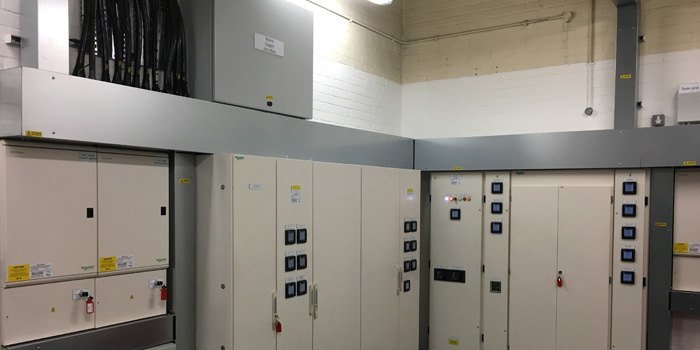 Completed Switchroom Generator & Mains Switchboards
One of the most challenging pieces of work to complete was the upgrade of the Generator Synchronisation panel which provides the centre with backup emergency supplies in the event of a power failure, picking up all essential services and enabling the centre to continue to function. In reality there was no available window to complete the work due to the generator being required 24×7. Many weeks planning enabled us to work a plan with Queensgate Centre management to complete the works over the Easter Bank Holiday weekend providing us with a 36 hour window to complete the following works;
Removal and disconnection of old Generator Synchronisation panel
Installation of new Generator Synchronisation Panel
Installation of new Cabling between the Generator Synchronisation panel and Generator Distribution panel
Removal of existing Generator Distribution Panel
Installation of new Generator Distribution panel
Commissioning of 2x Standby Generators to load sync
3.5 hours Load Bank testing of existing 35 year old Generator Sets to confirm operating performance.
Utilising 2 teams across 3 shifts all works were completed successfully and all emergency back up services were back up and available to the centre prior to the 6am cut off on Bank Holiday Monday. In the event of a problem during the works Playfords organised for a temporary Standby Back-Up Generator to be on-site available for connection at any time if we were not able to complete the works on-time. Fortunately this was not required and just provided peace of mind to the centre management team. It was evident how critical this piece of work was to the centre as the centre management team played a key role in assisting with planning and smooth running of these works.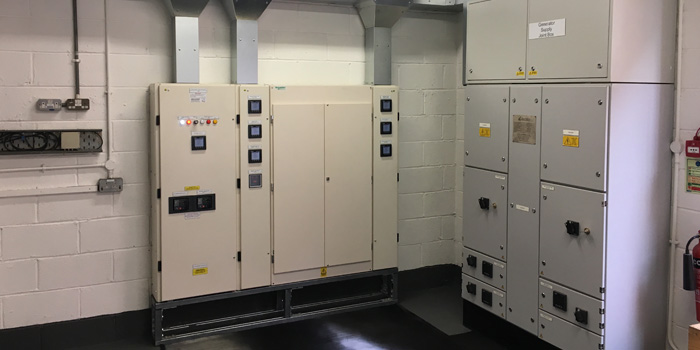 Generator Switchboard and Generator Supply Distribution Panel
Whilst a very stressful 36 hours, the teamwork demonstrated on-site by all parties and involvement from everyone made sure this was a success. One of the highlights from this weekend's work were emails between Harry Traynor (Queensgate Assistant Centre Director) and Playfords Managing Director (who was on-site) at 2am on the Monday morning, checking everything was going to plan and getting updates on the progress.
The total programme provided a 6 month window for the works to be completed and Playfords were delighted to have completed works before this deadline and be completely off-site by 30th June 2017.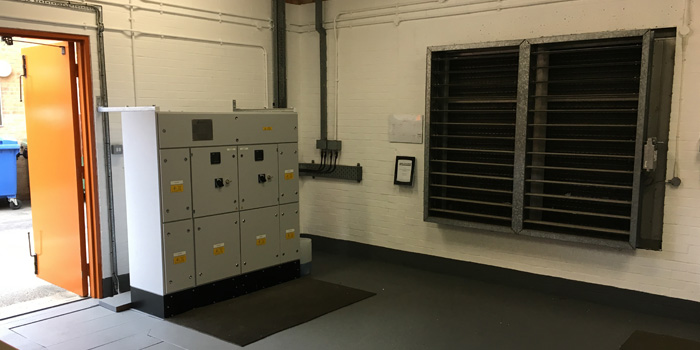 Generator Distribution Panel within Generator Room
Working within Queensgate proved to be challenging, with communication and planning being as critical to the work being completed as the job itself. Effective management of the project by the project team and communication between all parties enabled this project to be completed successfully to Playfords' usual high standards.
Harry Traynor, Queensgate Assistant Centre Director commented:
"Playfords worked closely with our consultant and onsite teams to deliver the works within programme and on budget. Strong communication skills ensured services were maintained with no operational impact to the Centre. Industry knowledge, accurate scheduling and a good work ethic helped deliver the works efficiently."
More projects like this