Hampton Gardens Secondary School
Location: Peterborough
In August 2017 Playfords successfully completed and handed over a complete M&E solution package including electrical, mechanical, sprinkler, CCTV, access control, fire and intruder alarm systems working as a supply chain partner to Carillion Building Services.
Engaged at an early stage, the Playfords team were able to assist with the project design process working closely with the client's teams and the appointed architectural supplier to ensure all elements of the M&E package captured and afforded the necessary solutions in line with the new building's purpose. As the full design process developed Playford's design team ensured all suitable solutions were explored across the various disciplines to afford the client some comfort that each element of the new build design afforded both cost surety and carried the required energy efficiencies applicable.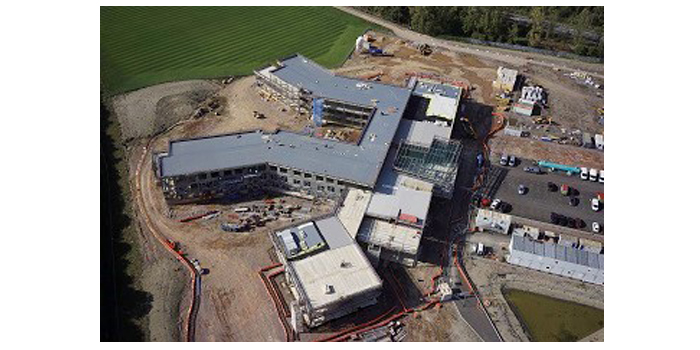 The electrical delivery included the installation of new containment systems throughout with a new sub-main distribution cabling system from the incoming electrical supply supplying local distribution boards within the building.
Lighting was provided via a mixture of high efficiency fluorescent and LED light fittings throughout. Intelligent lighting control systems were installed to offer absence and presence detection and also daylight dimming adjacent to incoming daylight sources. A dedicated emergency lighting system was also installed throughout the building. External lighting was provided via a mixture of building mounted LED and column mounted solutions with access route bollard lighting installed to pathways. The installation of a data cabling infrastructure throughout the building was included within the design for IT services and telephony. All outlets were presented as RJ45 connectivity. Fibre optic cabling solutions were installed between the three ICT data cabinet locations to offer resilience to ensure uninterrupted connectivity across a completed IT hardware solution installed to the end user's requirements.
A new intelligent fire detection system incorporating disabled refuge alarms to all stair cores was installed along with new intruder and access control systems. CCTV monitoring both externally and internally was also installed.
Mechanical works included the Installation of three modular type high efficiency boilers to provide flexible and efficient control to match the building demands along with offering resilience in the event of a single boiler failure. Heat emitting radiant panels are installed to teaching spaces with group rooms, toilets, general circulation and back of house areas, staff rooms and the like provided with low pressure hot water heating wall mounted radiators all locally controlled with thermostatic radiator valves. Areas such as SEN rooms have low surface temperature radiators to meet the appropriate regulations. Main entrances are provided with over door heaters to the inside of the building, this to protect infiltration of cold draught.

All halls are provided with radiant panels generally with warm air heating provided to the dining hall by an air handling unit located within the external plant compound, this distributed via low level displacement diffusers throughout the space.
The ventilation solution adopted for the teaching spaces uses the mixed mode solution, which provides comfortable conditions throughout the seasons. The availability of a mechanical ventilation system ensures draught‐free winter ventilation is achieved whilst still providing users the option to open windows if desired. The learning resource centre is provided with passive ventilation stacks providing fresh air and extract ventilation to offset heat gains and supply fresh air to occupants. The passive ventilations stacks are located on the learning resource centre roof.
The ground floor kitchen is provided with dedicated mechanical supply and extract ventilation for the control of catering odours and heat and vapour removal. Air handling units are provided to the sports hall, activity hall, drama studio, dance studio and main hall and dining hall.Each toilet / cleaner's store area has the provision of mechanical extract. Rich ICT areas and dedicated ICT areas are treated with air sourced heat pumps; this to offer an efficient and low carbon solution to provide dedicated cooling. The heat pumps provide both heating and cooling to the areas, this offers a common system for each for use throughout the year. Cooling systems have been provided to the Server Rooms and HUB Rooms via individual localised split air sourced heat pumps.
A water fed sprinkler system is installed through all areas of the new building.

With the new building efficiencies considered across the M&E design, Playfords also proposed and installed a Photovoltaic Solar Panel installation to the external roof area affording a renewable energy power generating system to reduce the building's running costs further.
More projects like this